KP charger specification
We have 60W,100W,120W,180W,240W,360W,600W,900W,1200W,1500W,2000W chargers.
for various lithium batteries and lead acid batteries.
we have 12V,24V,36V,48V,60V,72V,96V,120V,144V,288V,360V,400V etc chargers.
please send us your needs, we will customize for you. MOQ is 1pcs.
Main features
1,Full automatic transition of CC,CV and Float/cut off

2,Precise limit of voltage&current, guarantee fully charged and avoid over chage

3, Protections: over current,over voltage, short circuit and reverse polarity

4,Two LED indicators, aluminum,robust,elegant and reliable

5,CE, UL

6,Patent Pending,2-year warranty
About display
Below 900W, no volt /current display
Over 900W, with volt/current display
Totally Automatic Switch-Mode Battery Chargers
- Automatic Cut-off and then true Float. Can be left connected indefinitely without harming the battery.
- Input Universal (90VAC~264VAC) - Suitable everywhere in the world.
- Many advance features described in this spec.
- Very small size and very lightweight
Explanation of the Features:
The advance technology of the OEM Battery Chargers supplied by E-Shine Electronics is fundamentally different from other battery chargers. The conventional linear battery charger is an electrical device whereas the ES-1240BL is a lightweight sophisticated electronic device.
1. Switch-Mode Technology:
Battery Charger transforms the input into charger output using high Most of the battery chargers use linear technology, which convert the 115 VAC or 230VAC to 21.9VDC at 60 Hz. This requires a large transformer, which has the disadvantage of lower efficiency resulting in higher heat generation, larger size and weight.
Battery Charger transforms the 90VAC~264VAC into 21.9VDC at 100,000 Hz (1667 times faster than conventional charger) which requires a much smaller transformer and this results in a unit of smaller size, low weight and improved efficiency.
The KP-1240BL uses sophisticated electronic circuitry with microchips. All present day computers use switch-mode technology.
2. Input Requirements:
a)Universal 200~264VAC
AC voltage.
b)47 - 63 Hz
Input AC tolerance /- 20%. This means 1240BL will operate satisfactorily in areas where the input voltage is low.
This charger is also suitable for every part of the world. where the AC is 100VAC (Japan), 115VAC (USA), 230VAC (Europe) or 240VAC (UK).
3. Output:
2/4 Amps Constant Current @ Volts DC
a) Line Regulation @ Full Load 2%
b) Load Regulation 3%
c)Ripple Voltage: Very low
The peak-to-peak ripple voltage into a resistive load is less than 200mV for the output voltage above 21.9 VDC.
4. Charging Cycle:
If the LED1 is ON ( Red ), it shows that input power is ON.
The charging curve is attached. The explanation of the charging cycle is as following.
| | | | | | |
| --- | --- | --- | --- | --- | --- |
| Stages | Condition | Mode | Current | Voltage | LED Indication |
| Stage 1 | Constant Current mode | CC mode | 18A | to 21.9V | Red |
| Stage 2 | Constant Voltage mode | CV mode | Reduces from 40A | Holds at 21.9V | Red |
* CC mode = Constant current charge
* CV mode = Constant voltage charge
*** See Stage 2 description below
Stage 1: Constant Current Mode (CC):
The charger changes to constant current 18A. When the battery voltage reaches up to 21.9V, the charging stage changes from CC (Constant Current) to CV (Constant Voltage) mode.
Stage 2: Constant Voltage Mode (CV):
In this stage the voltage of each cell in the battery is equalized. The charger holds the battery at 21.9V and the current slowly reduces.
6. Two colors in one LED:
LED2 shows the charging status. The LED ON shows presence of input power. The bicolour LED shows Red when charging and changes to Green when the battery is fully charged.
7. Reliability:
a)Mean Time between failures (MTBF):
30,000 power-on-hours (POH) or greater. This translates into 10 years of everyday operation of 8 hours.
8. Charging Curve for Li Batteries: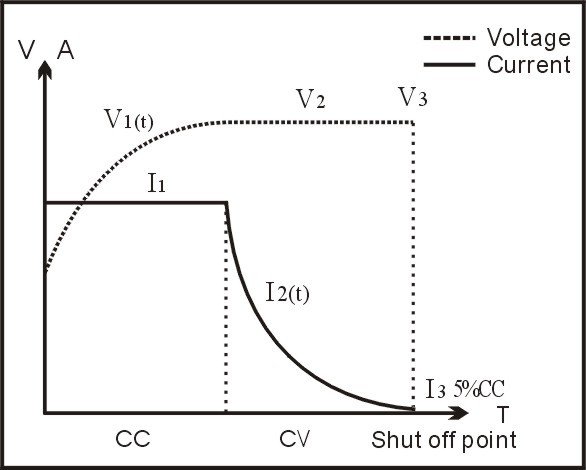 9,warranty:
one year since shipment date.
10,Application:
LiFePO4,LiMn2O4,lithium-polymber,lead acid battery etc
11,each of the charger is customized for your battery pack.
please send the following info to us by email:
battery type:
number of cells in series:
capacity of battery pack(AH):
The maximum charge voltage:
the country that the charger will be used:
which standard of AC plug you need(Asia/American/European standard and other)
which DC output connector you need(see photo below):